Want to know the subtle differences that make each of our custom pencils unique? Our chairman Henry Hulan breaks down each pencil in a little more detail...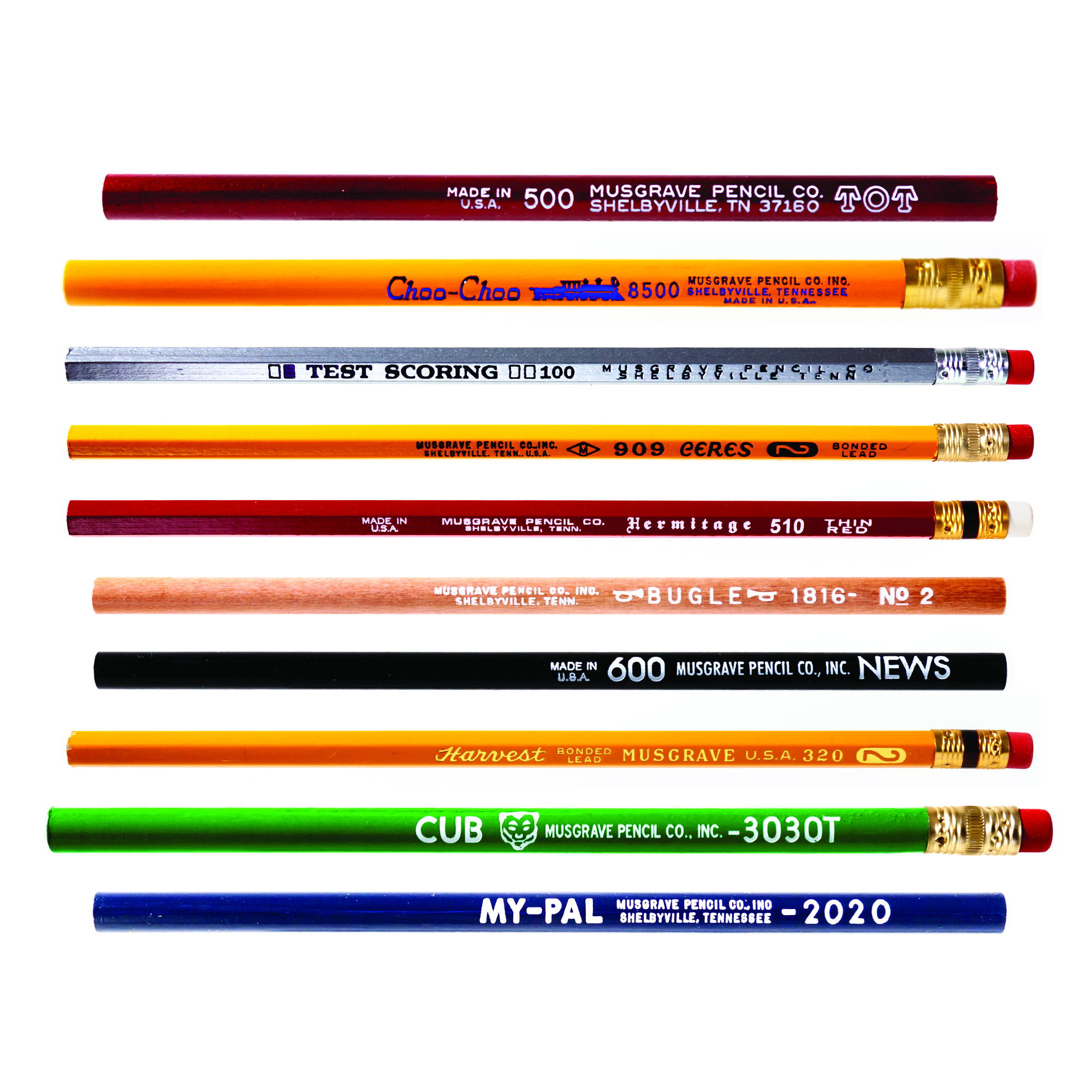 NEWS
Our 600 News Pencil is a regular-size round pencil printed a shiny black with an oversized and very soft core. This fun pencil can be used for marking on newspapers and for drawing and sketching. The soft core will even let you shade your drawing. It's a favorite for doodlers, artists, and anyone creative. In sum: a fun, very soft core pencil.
BUGLE
Our 1816 Bugle Pencil is a round pencil with a clear lacquer coat, which helps show the wood's beautiful grain.This pencil does not have an eraser and is favored in many school systems for its light weight and European styling. We suggest you use a beveled eraser to erase. The Bugle is very comfortable to hold and has an HB writing core. It's great for taking and writing notes, and it's easy to carry.
HERMITAGE
Our 510 Hermitage Red Lead Pencil is hexagonal in shape and has an eraser. The red core is smooth-marking and shows up very well on a school testing paper (something a student does not have to work to see). The Hermitage Red Lead is fun to draw and shade with. The crayon type core is smooth and shows up well in your planner, too. Our red core has a bit more red pigment in the mix to make the color a standout.
HARVEST
Our 320 Harvest Pencil is one of our most iconic pencils. The top-quality HB writing core is smooth with a feel-good lay down. The standard color pink eraser and brown bonded ferrule along with six coats of yellow and clear finish make this pencil a joy to use.
TEST SCORING
Our 100 Test Scoring Pencil with its special testing core has been approved for use all over the U.S.A. The laydown/testing marks can be read by all the testing machines used in the many schools across the country. Another joy of the Test Scoring Pencil is the softness of the writing core. It is used for crossword puzzles, sketching, and for anyone wanting a soft, smooth-writing pencil.
CERES
Our 909 Ceres is one of our most popular pencils. This is a quality, affordable pencil that can be used for any occasion, anything from a note for a special someone to a rough draft for your next manuscript. You will find the Ceres pencil fun and easy to use.
TOT
Our 500 TOT Pencil is our largest diameter pencil that also has our largest diameter HB core. This metallic-colored jumbo pencil has no eraser and was primarily made for kindergartners and first-graders just starting to school. Now the 500 TOT pencil has become popular as a marking tool for lumber — or just any medium you want to see your mark on. The large diameter feels good in your hand and is easy to find in a shirt pocket, purse, tool kit, or your auto glove compartment.
CHOO CHOO
The 8500 Choo Choo Pencil has the exact same qualities as the 500 TOT Pencil, except the 8500 Choo Choo has an eraser. Be careful with the eraser because it's big and will erase a lot. This is another popular jumbo-size school pencil for the K–first-graders.
MY-PAL
Our 2020 My-Pal Pencil is the second-largest diameter pencil we produce. This pencil was made for school children in the first and second grades and is used in school districts all across the U.S.A. This popular pencil also has an oversized writing core equivalent to an HB core. This small jumbo pencil is handy for marking just about anything, and the stabby point (if sharpened that way) won't break off easily.  
CUB
The 3030T Cub Pencil has the exact same qualities as the 2020 MY-PAL pencil, except the Cub has an eraser. The Cub comes in green and blue colors and is considered a medium-size jumbo pencil with an oversized core.
Ready to nab your own 10-pack of Musgrave Pencils? Click here!