Part 1: Designing a Custom Pencil
Custom pencils are not only a memorable way to share useful information with your customers, clients, and colleagues, they're also an awesome vehicle to showcase your brand's personality.
Designing a custom pencil has some unique considerations to address before your perfect design lands in the jar on your desk.
Our upcoming blog series will help guide you through the process and make sure you have the perfect custom pencil for your needs.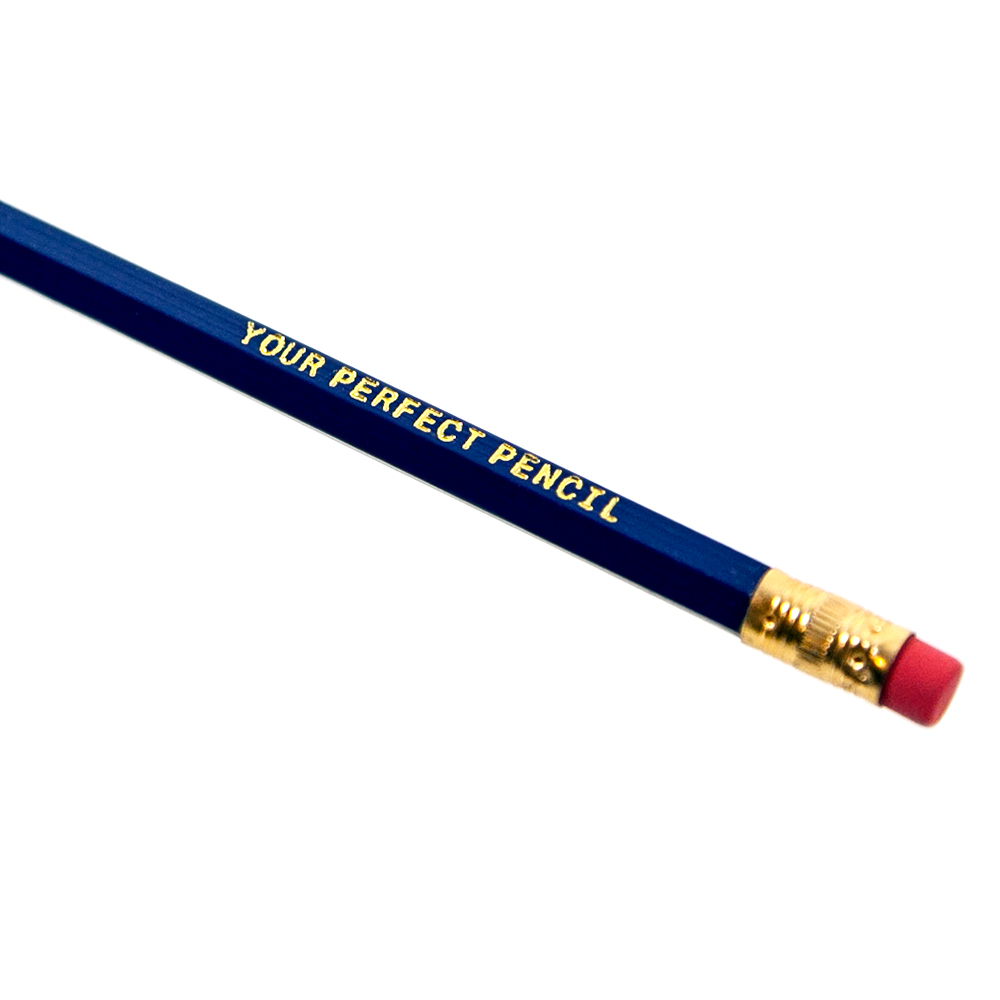 Before any graphics are added, start with the right shape and style:
Why do I need custom pencils? On the surface, the answer to this question may be as simple as "Because I like pencils," but thinking about a specific purpose for your pencils will help narrow down the specs for what should be included in the final layout. Think about who will be using your pencils, as well as where they'll be distributed. Are these pencils to give out to customers? Are they for your employees? Will they be handed out at an event, tucked in a goodie bag, or shared with a group of kids? This will help you determine if you need an eraser, the shape and size, and even the kind of graphite you select.
 

What is my budget for custom pencils? Custom pencil prices vary depending on the type of pencil you'd like customized, as well as the print methods you'd like to use (more on that later). Defining your budget for a custom project up front is helpful, especially if you want to explore options for upgrades like sharpening, custom boxes, or colored erasers.
 

How many custom pencils do I need? Our factory imprints pencils in batch sizes by the gross (one gross equals 144 pieces). Orders start at 5 gross (720 pencils) for standard length pencils, and 10 gross (1,440 pencils) for golf pencils. Although 720 pencils may sound like a lot, consider that pencils have an infinite shelf life (they don't dry out or go bad!). So, for example, if you need pencils for a tradeshow or annual conference, perhaps avoid including the year in your design so that you can use them again in the future.
Once you've formed some ideas around why you need custom pencils, you can start gathering the specifics that bring your brand to life. What does your brand look and feel like?
If your pencil is going to have text, you'll need to think about what typefaces you'll use in your design. Our print capabilities can handle whatever font you want to use, provided it fits on the slim side of a pencil. Some things to consider:
Style: Is your brand a serif or sans-serif? A hand-drawn script or a classic block letter? Serifs and sans-serifs are more traditional for conveying information, while a display font like a script, block letter, or calligraphy is more decorative and attention-grabbing.  

Size: The max size for text on a pencil (depending on the size of pencil you choose) varies between 2 and 6 ½ inches in width and ⅞ to 1 ⅛ inches high. Keep in mind that the text on the side of a pencil is very small — if the fonts you choose have characters that are too close together or are too fine, they may not show clearly in your design.

Pairing: If you're considering multiple lines of text (such as your business name plus a slogan), you might want to consider pairing more than one font together. It's a good idea to look for contrast when pairing: serif and sans-serif, script plus sans-serif, all-caps plus lowercase.
Here are a few great resources for picking fonts: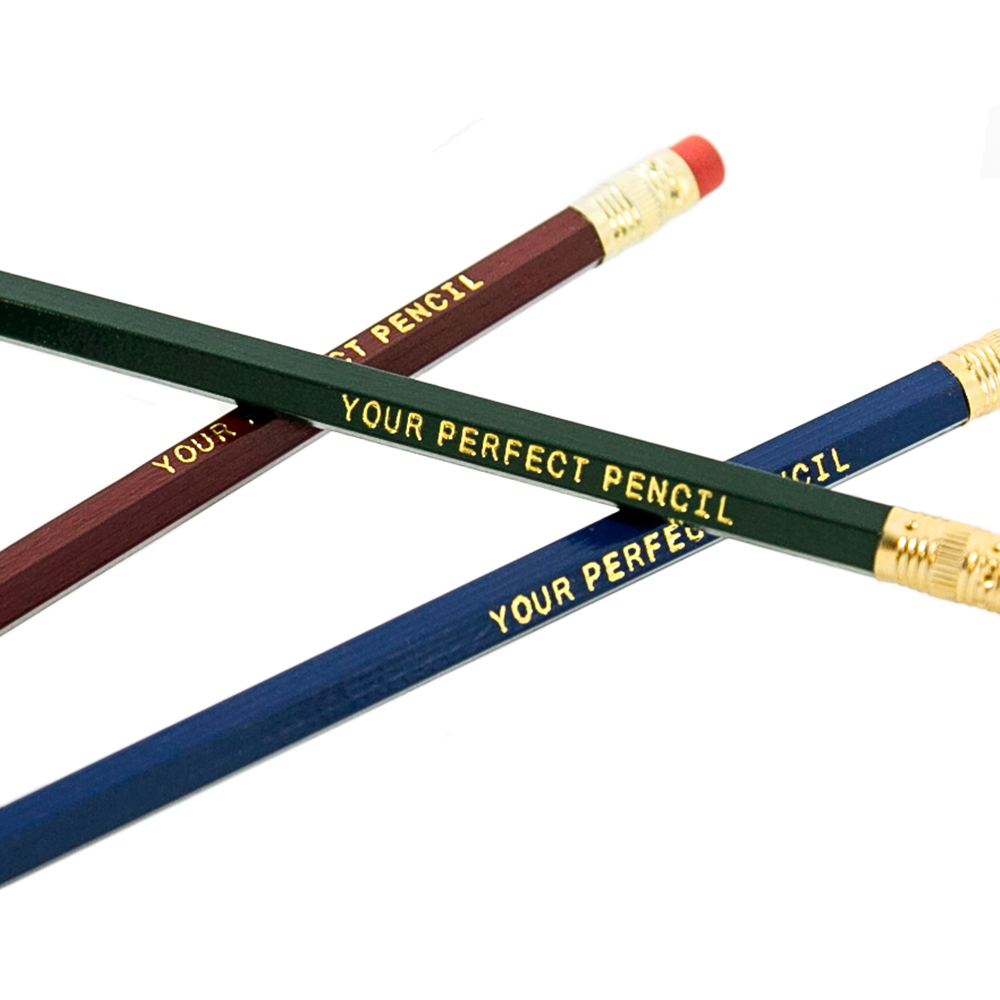 An example of "Set by Musgrave" font and imprint option on a custom pencil.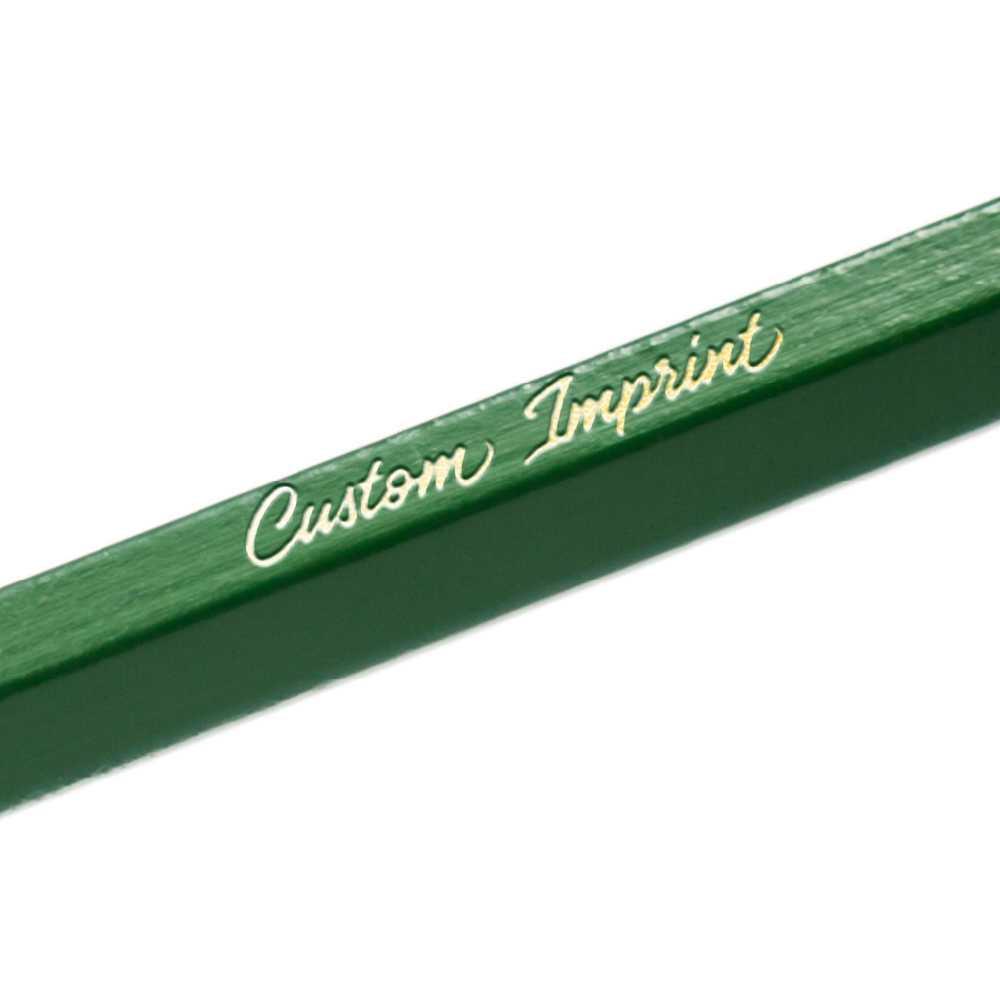 An example of a custom imprint on a hex pencil. These are files created by the customer which are then turned into a dye stamp.  
If you've already browsed our custom pencil options, you'll know that we offer a variety of colors and finishes for pencils. We do offer Pantone® matching for pencil finishes on orders with a minimum of 1,440 pencils, but our digital and screen printing capabilities allow us to match any printed design elements to your specifications, no matter the minimum. You'll be able to pair your custom designs and colors with a background that makes sense for your brand.  
Color Theory: Your brand is a personality, and the colors you choose to represent your brand help people interpret that personality. Colors can evoke certain feelings: Pink is commonly associated with femininity and innocence, yellow with happiness, blue with professionalism. How do you want people to feel when they look at your brand?

Complement: Start with the primary colors of your brand — particularly the color you chose for your logo. What colors go with it? How will it pop against the other colors in your design? Generally speaking, it's safe to go with a color in the same family as your logo or one that's opposite it on the color wheel (also known as its complementary color).

Contrast: Just like choosing the right font for your custom pencil will make it more legible, so will choosing the right color. White on white, for instance, might make a very minimalist look, but it will be very hard to read. Our advice is to start with the color you choose for the pencil's background color and build your design on top of it to make sure the colors work well together.
Here are a couple of resources for picking brand colors:
Now that you've identified your brand look and feel, picked your fonts and colors, and considered your budget for pencils, the last bit of preparation is gathering your style elements. These include anything that's not text: the version of your logo that you want to include and any stylistic elements, such as shapes or patterns, you want to use.
Should you consider hiring a graphic designer? Maybe! Your pencil design might be as simple as a couple lines of text, but maybe your brand has some extra visual elements that you'd like to work into a layout. If graphic design isn't in your wheelhouse, a designer can help you lay out the elements you need into a format that works on a pencil. You can also try free tools like Canva that allow you to build templates and drag and drop elements into a design (which is far easier for newbies to navigate than Photoshop). For guidelines on the dimensions and file types needed for a pencil design, check out our FAQ.
Need some inspiration for your design? Check out these resources for pencil designs of all shapes and sizes.
Brand Name Pencils — Bob Truby has one of the most prolific collections of brand name pencils out there. Browsing his archive of historical pencils is sure to give some ideas for typefaces, color pairings, and more.

Check out Musgrave's Instagram — In the coming months, we'll also be sharing some archival images and photos of pencils from our old collection. It's always inspiring to see throwback images for new and cool ideas!

Custom Pencil Inspiration — Pencil mega-fan and Musgrave blog contributor Caitlin Elgin has a fantastic board of inspiration on Pinterest.

Don't be afraid to look to other industries, like business cards and stationery companies. You may see color pairings and promotional ideas you hadn't noticed before.

Coming Up Next: In our next post, we'll go over picking the right pencil and print methods for your design. Stay tuned!
Special thanks to Caitlin Elgin for contributing content, Emily Dorio for photography, and Studio Delger for Creative Direction.